Retaining Walls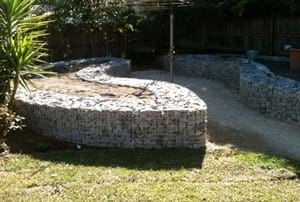 A retaining wall can ultimately serve many purposes within a landscape or outdoor area and can be an amazing addition, creating a functional and practical space.
Earth Aspects can construct retaining walls to enhance the aesthetic appeal to a design, prevent erosion, create and form man made split level garden beds or simply act as seats.
Using various types of materials such as Timber, Natural Slate & Stone, Rock Boulders, Gabion Walls, Stackstone Wall Panel, and decorative retaining walls, you will find that Earth Aspects are committed in delivering quality service and workmanship to our clients.
Types of Walls
Timber Sleeper / Concrete / Gabion Wall
Natural Stone / Rock Boulders / Stackstone Wall Panel
Rendered Block / Brick / Decorative